The National Consumer Law Center Honors David Humphreys and Luke Wallace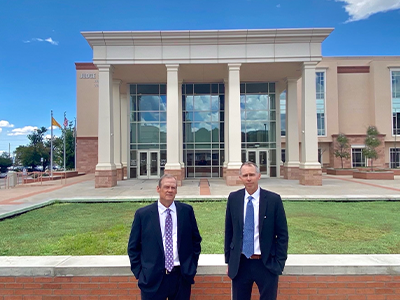 The Vern Countryman Consumer Law Award is widely recognized to be the top honor in the field of consumer law. The board of directors of the National Consumer Law Center recognized Humphreys Wallace Humphreys partners David Humphreys and Luke Wallace at the National Consumer Rights Litigation Conference in Washington DC as the 2017 recipients of the Countryman award. The criteria for the award includes more than fifteen years of practice in the field of consumer law with a significant contribution to the law and protection of the rights of working and low-income Americans. David and Luke have a combined 50+ years practicing law together. While they have been honored with a number of awards for their work, this represents a pinnacle in their partnership.
Luke and David are very grateful for the honor but have no intention of riding off into the sunset, award in hand. They are likewise very grateful for the close friendships developed in the trenches with both clients and their consumer law colleagues.
For more information about NCLC or the Vern Countryman award, including past recipients, please visit https://www.nclc.org/about-us/2017-vern-countryman-award.html