Trial Lawyers, Consumer Advocates
Here to Represent You
Auto Fraud & Credit Reporting Errors
Attorneys in Tulsa, Oklahoma
What Makes
Us Different?
From debt collector harassment to identity theft, lemon law, foreclosure, and mortgage service errors, we focus on cases that allow us to advocate for those who have been taken advantage of. If you don't know where to turn, don't lose hope. Trust in attorneys who are committed to helping you leave your current troubles in the past.
We Have Trial Experience
After dedicating decades to practicing law, we're highly skilled in trial settings. You can rely on our intuition and our ability to tell your story.
We Expose Wrongdoing
Our mission is to illuminate the truth and hold wrongdoers accountable for fraudulent acts throughout the Tulsa, Oklahoma, area.
We Never Quit
We will zealously advocate for you until all wrongs have been righted. Experience the difference that we can make and call us today.
Case Results
February 2015, US District Court
$1,000,000 settlement of action involving wrongful dishonor of permanent mortgage loan modification and wrongful collection.
November 2004, District Court
$1.75 million jury verdict in actual and punitive damages against Security Finance for predatory lending and wrongful collection.
January 2014,
US District Court
$2.75 million settlement due to collection abuse and wrongful institution of foreclosure on paid-off note and mortgage.
Turn to Experienced Trial Attorneys Today
We are here to help you seek the justice that you deserve. Get in contact with us today in Tulsa, Oklahoma or Santa Fe, New Mexico to request your initial consultation.
If You've Been Ripped Off, We're Here to Fight for You
In our corporate-driven world, it's easy to feel or get taken advantage of by powerful businesses and industries. At Humphreys Wallace Humphreys P.C., we strongly disagree with all instances of bullying and fraudulent behavior, which is why we strive to expose the wrongdoings committed by manufacturers, car dealerships, credit reporting agencies, and mortgage servicers. The harm that they cause for innocent consumers is highly unethical, but without having the right attorney on the case, it's quite possible that the wrong may never be righted. If you have fallen victim to auto fraud, debt collection harassment, or identity theft, don't hesitate to get in touch with us today.
Our experienced trial lawyers and passionate consumer advocates are known for their perseverance and intuition in court. From lemon law to foreclosure errors to million-dollar consumer protection cases, we have the knowledge to guide you and the drive to fight for you with impact.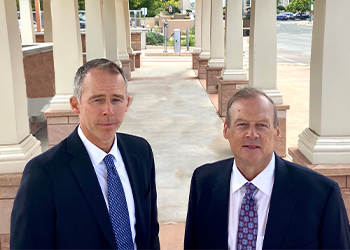 Our practice has office locations in both Tulsa, Oklahoma, and Santa Fe, New Mexico, and we accept cases from residents in and near Sapulpa, Bixby, Owasso, Broken Arrow, and Claremore, Oklahoma. Whether you're dealing with a corporate bully, an identity thief, or a cheat, we want to hold them accountable and help you find a way out. Let's work together to write an end to this current chapter.