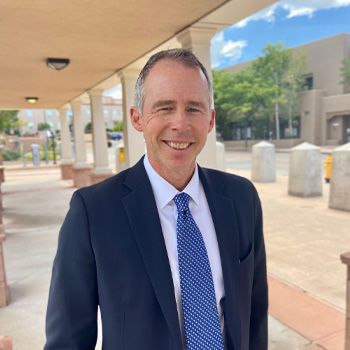 Luke Wallace
Attorney at Law
In 1987 a fellow student in my high school wrote in my senior year high school yearbook "you will make a great lawyer someday". I admit that at the time I didn't see what she saw in me. At the time I wasn't even sure I wanted to go to college. My mom did because she encouraged me to take a college campus visit. It took only one visit. Today I feel very blessed for that encouragement as I love what I do - sue bullies and businesses that engage in lying, cheating and stealing.
I graduated Phillips University, Enid Oklahoma, May, 1991. During my second year of law school, I saw an advertisement for a new vehicle. I had never purchased a vehicle from a car dealer, much less a new one. I spent the better part of a full day trying to buy the advertised vehicle, but the dealer pulled all kinds of tricks in its effort to stop me and move me to a different vehicle, one that was not advertised. Bottom line, the dealer didn't want to sell the advertised vehicle, it just wanted customers to show up in response to the ad so it could try to sell different vehicles. Classic "bait & switch". At the end of the day, I walked out with the keys to a new base model vehicle. When I should have felt excitement and joy, I felt angry. I knew with every fiber in my being that the car dealer was engaged in lying, cheating, and stealing. I realized then that I might have a future representing people against car dealers, mortgage servicers, banks and other businesses that choose to engage in bully tactics and lying, cheating & stealing. I went on to graduate the following year from the University of Tulsa, College of Law in 1994.
I also graduated Gerry Spence's Trial Lawyers College in 2001. My partner and I worked very hard on our trial skills and focused on jury trials of consumer protection (car dealer fraud, wrongful mortgage servicing, credit reporting errors, wrongful debt collection and predatory lending) cases across the country in state and federal courts. We won many significant victories and justice for consumers. In 2004, my partner and I were awarded Co-Warriors of the Year for the 18-state South Central region of The Trial Lawyers College. I joined the teaching faculty of Trial Lawyers College in 2006.
Reputation
Luke has been admitted pro hac vice for jury trials in consumer fraud cases in state and federal courts throughout the United States. Luke frequently trains other lawyers in the areas of trial practice and consumer law. He speaks to national, state, and local bar associations on FDCPA, wrongful collection, identity theft, false credit reporting, predatory lending, automobile fraud, trial skills, and maximizing damages in consumer law cases.
Awards
I have been recognized as a Super Lawyer every year since 2006.

In 2017, The National Consumer Law Center awarded my partner and I the 2017 Vern Countryman Consumer Law Award recipients.
Education
Gerry Spence Trial Lawyers College, 2001

J.D — The University of Tulsa, 1994

B.A. —Phillips University, 1987
Bar Admissions